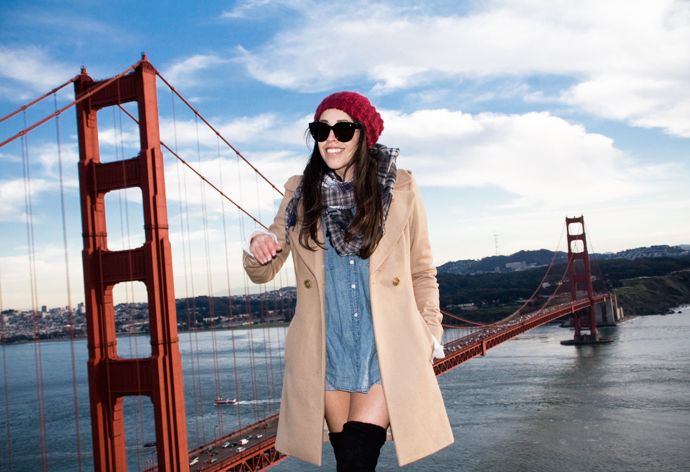 Rachel Zoe Trish coat
, Gap 1969 denim shirt,
American Apparel
socks, Celine Sunnies, Gap beanie
Photo by John Smith
Stopping by to see the beautiful view of the SF bridge on our way back from hiking in the redwoods and having lunch in Sausalito. There are so many amazing places to see around San Francisco and so many things to do/eat that I have made it my new years resolution to try and go up there whenever I can get away. This was one of the warmer days so I thought I could get away with wearing shorts and long warm socks. Surprisingly, I was warm enough to walk through the cold red wood forests without having to swear the whole way through. These
American Apparel thigh high socks
are so damn warm I just bought 2 new pairs. PS.. I had this idea of grabbing a champaign bottle and popping it in front of this bridge for effect as a new years post but... that would of been a whole other mission. And possibly a waste of champaigne bottles.
John y yo pasamos el dia caminando por el bosque en las afueras de San Francisco y despues fuimos a comer al pueblito de Sausalito. Hay tanto que ver en esta ciudad que te lo juro nunca te lo acabas. Este año quiero ir a visitar mas seguido. Este dia hacia mas calor que el resto de la semana y decidi usar shorts para disfrutar un poquito. Estos calcetines de American Apparel siempre me mantienen caliente y con mi saco pude disfrutar el dia sin quejarme del frio.

Follow @FrancescaFelix